Ganesh Chaturthi, Come September the lanes and by lanes of every city, town, and village decks itself up to celebrate the birthday of the elephant-god. Lord Ganesha, famously called elephant-head God is the most lovable of Lord Shiva's sons. He is believed to be the eldest son and is the favorite of Goddess Parvati. Every child literally loves him. The stories about him seem ever new.
Ganesh Chaturthi, also known as Vinayaka Chaturthi, is a Hindu festival that celebrates the birth of Lord Ganesha, the elephant-headed deity. This festival holds immense significance in Hindu culture and is with great enthusiasm and devotion across India and among Hindu communities worldwide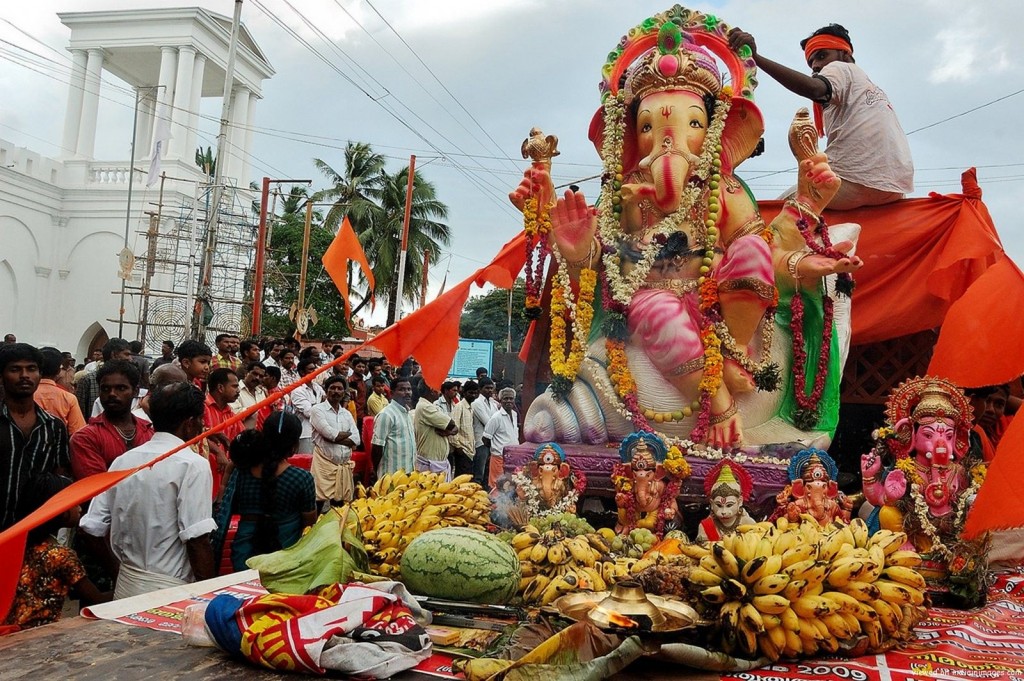 There is a famous legend behind the birth of lord Ganesh. The most trusted of the stories is taken from Shiva Purana. Goddess Parvati was once preparing herself to take a bath. Natural herbs, gram flour, and turmeric to apply to her body. She wanted to enjoy her bath in privacy and asked Nandi, the bull to guard the door. She insisted that no one should be allowed in. But Nandi happened to be very loyal to Lord Shiva and so allowed Shiva to enter the palace. Parvati was angry that she did not have anyone as loyal as Nandi. She then made a body with the turmeric mix from her body and then gave life to it and adopted him to be her son.
One fine day, Parvati went in to take a bath and asked Ganesh to guard her entrance. She strictly said that no trespassers should be allowed. Ganesh sincerely followed her orders. Lord Shiva at entry. He tried all ways to explain his prominence, also tried to threaten. But the sincere guard did not permit. Shiva could no longer take it and in rage beheaded the little boy. Parvati on knowing this was uncontrollably angry and announced that she would destroy the entire world. All the gods, including Brahma, requested Parvati. After a long persuasion, she agreed but with two obligations. The first is to bring Ganesh back to life, and the second, is to make him Adhideva, who will prior to all gods.
On Ganesh Chaturthi, Why does Ganesh have an elephant head? Information of lord Ganesha's rebirth is also a legend. To bring back dead boy to life, they needed a head. Lord Shiva to have blessed a Gajasur (an elephant) that he will in the world. When Ganesh lost his head, Shiva guided Brahma to get the head that was facing north direction. This head was none other than that of Gajasur. Thus, two purposes i) Parvati's son got a new life with an elephant head and ii) the boon given to Gajasura that he will even after his death.
The birthday falls on the fourth day of the lunar month Bhadrapad and so Chaturthi or this month is as Ganesh Chaturthi. Most of the states like Andhra Pradesh, Telangana, Maharashtra, Tamilnadu and Karnataka. The festival is on to a community level by the famous leader Bal Gangadhar Tilak. Thanks to him today we seen such innovations in this festival. This provides the sculptors an opportunity to express their skill. You won't believe, but two places in India, Mumbai and Hyderabad have the tallest Ganapatis standing as tall as 20 plus feet.
On Ganesh Chaturthi, The best way to celebrate this festival is by gifting something to our near and dear friends. Maybe a good Ganesh idol or some material used for Puja can be the best gift.
So, Ganapati Bappa Morya, We await your arrival!
Read Another Blog: HD Ganesh Chaturthi Wallpapers Wishes, SMS & Messages
Cultural Activities:
Encourage employees to showcase their talents through cultural performances such as singing, dancing, or reciting poetry related to Lord Ganesha.
Organize a rangoli-making competition on themes related to Ganesh Chaturthi.