This this, October 05 will mark the celebration of one of the most important festivals, Dussehra. It is also famously known as Vijaya Dashami and is celebrated with great enthusiasm all across the country. This day is seen as the triumph of good over evil and celebrated as a victory of Lord Rama after He defeated the evil King Ravana who had abducted Devi Sita. On this day, the effigies of Ravana are burnt in open fields at night by stuffing the effigies with grass and loads of firecrackers.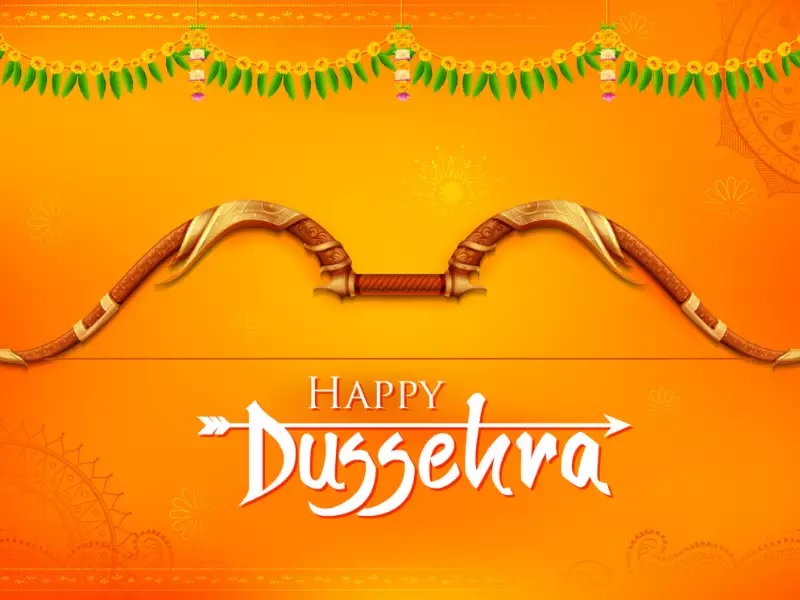 Dussehra is celebrated after Navratri, the nine days spent worshipping the nine avatars or forms of Goddess Durga, also signifying Her win over the buffalo demon Mahishasura. For Bengalis, the celebration starts with the tradition of Maa Boron, which implies making the Goddess Durga ready for Her journey back to Mount Kailash. The best part is the sindoor khela wherein wedded women come together and put some vermillion on Goddess Durga and also on each other. The celebration is concluded by immersing the idol of the goddess into river.
Happy Dussehra Wishes, Quotes, Messages, and SMS
May this Dussehra burn all your worries with Ravana and bring you and your family loads of happiness. Happy Dussehra!

Let us come together to celebrate the victory of good over evil on this auspicious day. A very happy Dussehra to you and your family.

On the happy occasion of Dussehra, I pray that Lord Ram fills your life with lots of happiness, prosperity, and success. Happy Dussehra to you and your family!

Happy Dussehra to all.





May Shri Ram bless you and your family
.




A Happy, joyful and prosperous Dussehra to you and your family!

May Lord Rama always keep showering his blessings upon you




May your life be prosperous and trouble-free throughout.




Happy Dussehra.

Celebrate the victory of the forces of good over Evil.




Let's celebrate an auspicious day to begin new things in life.




HAPPY DUSSEHRA….!!

बुराई को खुद से और इस देश से दूर भगाओ,
अच्छाई को अपने जीवन में अपनाओ।
रावण को जलाओ और भ्रष्टाचार मिटाओ,
प्रगति के पथ पर भारत देश को आगे बढ़ाओ।
शुभ दशहरा 2022

अधर्म पर धर्म की जीत,
अन्याए पर न्याय की विजय।
बुराई पर अच्छाई की जय जय कार
यही है दशहरे का त्यौहार।शुभ दशहरा
As Shri Ram kills Ravana,
And comes back to people he loves,
As Maa Durga kills Mahish-asura,
And prepares 2 go back 2 her heavenly abode
May these gud-over-evil stories,
Inspire you towards ur own victories..!!!

May all the tensions in your life burn along with the effigy of Ravan.




May you be successful and happy ever! Happy Dussehra!

Happy Dussehra to all of you.




May lord Rama bless u n ur family with his choicest blessings.

दशहरे की आपको,




पूरे परिवार को बहुत-बहुत शुभकामनाएं एवं बधाई।




दशहरा असत्य पर सत्य की विजय है।




आप भी हर पथ पर विजयी हों, यही भगवान से हमारी मंगल कामना है।

आप सभी को रामनवमी एवं दशहरा के पावन पर्व की हार्दिक शुभकामनाएँ!




मैं ईश्वर से प्रार्थना करता हूँ कि आप व आपका परिवार सदैव सुख समृद्ध खुशहाल रहे!

Jaise Ram ne Jeeta Lanka Ko, Waise app bhi jeeten saari duniya. Is dashahare mil jayen app ko, Duniya bhar ki saari khushiyan. Happy Dussehra!!!
You May Like Aslo – Maa Durga : Navratri Wishes, Messages, SMS, Quotes
Thus, with the festival just being around the corner, let us prep up to celebrate Dussehra by sending some warm and loving wishes to your beloved friends and family and thus praying for their good health, prosperity, and happiness. You can send some of the great and best wishes, messages, quotes, and SMS to your loved one through various social media platforms such as Twitter, WhatsApp, Facebook, Instagram, and so on. And that's what we are here for. We have prepared a list of Happy Dussehra Wishes, Quotes, Messages, and SMS from which you can select the one you like and convey your best wishes to the close ones who cannot personally meet up with.
So, on this special occasion of Dussehra, let us wish you loads of love, happiness, strength, success, positive vibes, and the vision to choose between the right and wrong.
Wish you all a safe and happy Dussehra!!