Wishing you all a Happy Ganesh Chaturthi. we brought to you several spiritual stuff related to Lord Ganesha Aarthis, Mantras, Slokas, Vandana, Chalisa, and Bhajans. You can find them all in one place and download them free. Happy Chanting…..
Aartis, mantras, slokas, vandana, chalisas, and bhajans are all forms of devotional music and poetry that are used to praise and worship Ganesha. They are an important part of Ganesha Puja and other Hindu festivals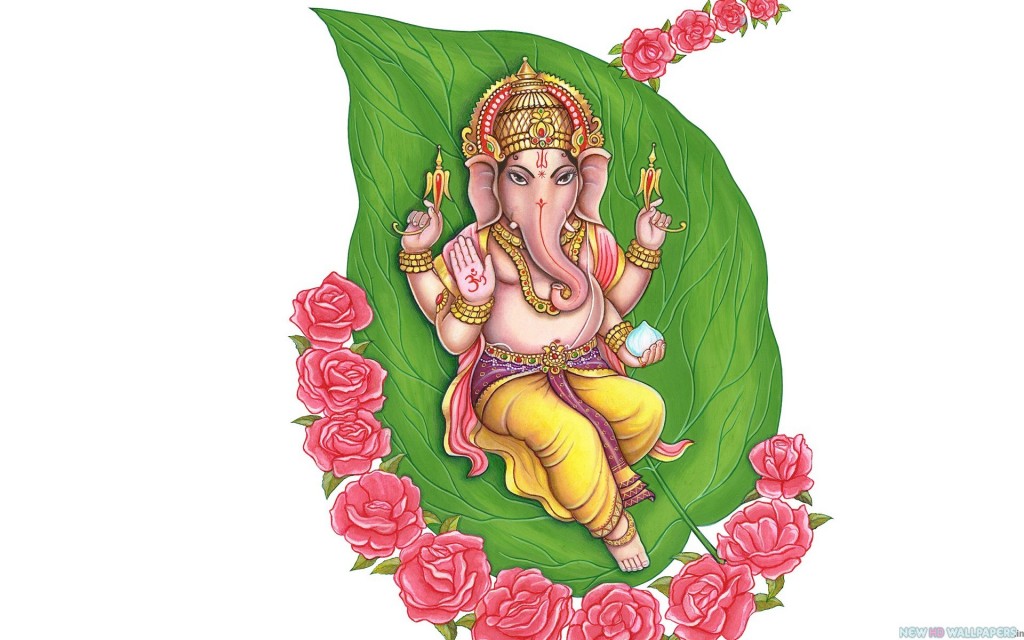 1- Ganesha Vandana
Suklam baradharam vishnum

Sasi varnam chathurbhujam

Prasanna vadanam dhyayeth

Sarva vighnopa shanthaye

Agajaanana Padmaarkam

Gajaananam Aharnisham

Anekadantham Bhaktaanaam

Ekadantam Upaasmahey.
2- Ganesh Aarthis
Jai Ganesha Aarthi
Jai ganesh jai ganesh jai ganesh deva

Mata jaki parvati pita maha deva – 2

Ek dant dayawant char bhuja dhari

Mathe par tilak sohe moosh ki sawari – 2

Paan chade phool chade aur chade meva

Laduan ka bhog lage sant kare seva

Jai ganesh jai ganesh jai ganesh deva

Mata jaki parvati pita maha deva

Andhe ko aankh det kodhin ko kaya

Banjhan ko putra det nirdhan ko maya – 2

Sur shyam sharan aaye safal kijiye seva

Mata jaki parvati pita maha deva

Jai ganesh jai ganesh jai ganesh deva

Mata jaki parvati pita maha deva

Jai ganesh jai ganesh jai ganesh deva

Mata jaki parvati pita maha deva.
3- Sukh karta dukh karta Aarthi
Sukhkarta Dukh Harta Varta Vighnachi

Nurvi Purvi Prem Krupa Jayachi

Sarvangi Sundar Udi Che Duranchi

Kanti Jhadke Maad Mukata Padaanchi

Jaidev Jaidev Jai Mangal Murti

Darshan Maatre Mann Kaam Naa Phurti

Jaidev Jaidev

Ratnakhachit Phara Tujh Gaurikumra

Chandanaachi Udi Kumkumkeshara

Hirejadit Mukut Shobhato Bara

Runjhunati Nupure Charani Ghagriya-3

Jaidev Jaidev Jai Mangal Murti

Darshan Maatre Mann Kaamna Phurti
4- Ganesh Bhajans
Jai Jai Jai Gana Naayaka

Jai Jai Vighna Vinaashaka

Jai Shubha Mangala Daayaka

Vidhya Buddhi Pradaayaka

Gaja Vadanaa Gauri Nandana (2x)

Gangaadhara Shiva Shambho Nandana.

Gananaatha Gananaatha

Mooshika Vaahana Jaya Gananaatha

Sharanam Sharanam Gajaanana

Sidhi Vinaayaka Gananaatha

Mukthi Pradaayaka Gananaatha

Jagatodhaara Jaya Gananaatha

Sharanam Sharanam Gajaanana

Jai Ganaraaya Shree Ganaraaya Jai Ganaraaya Shree Ganaraaya Mangala Moorthi Mooriya

Ashta Vinaaayaka Mangala Dhayaka Mangala Moorthi Mooriya (2x) Siddhi Vinaayaka Mangala Daatha

Sindhura Vadana Pankaja Ramana Ganapathi Baba Mooriya (2x) Sindhura Vadana Pankaja Ramana
5- Ganesh Mantras
Vakrtund Mahakaya Surya Koti Samaprabha
Nirvhignam Kurumedaya Sarva Karyashu Sarvada.
6- Ganesh Mula Mantra
Aum Gam Ganapataye Namah
Aum shrim hrim klim glaum gam ganapataye vara varada sarva janamme vashamanaya svaha
7- Ganesh Gayatri Mantra
Aum Ekadantaya Vidmahe

Vakratundaya Dheemahi

Tanno Danti Prachodayat.

Aum sri kaala svaroopaaya Vidmahe

Kaalaatheethaaya Dheemahi

Thanno kaala yoga shodasa ganapathi prachodayath.
8- Ganesh Chalisa
Jai Ganapati Sadguna Sadan,

Kavivar Badan Kripaal,

Vighna Haran Mangal Karan,

Jai Jai Girijaalaal

Jai Jai Jai Ganapati Ganaraaju,

Mangal Bharana Karana Shubha Kaajuu,

Jai Gajbadan Sadan Sukhdaata,

Vishva Vinaayaka Buddhi Vidhaataa

VakraTunda Shuchi Shunda Suhaavana,

Tilaka Tripunda bhaal Man Bhaavan,

Raajata Mani Muktana ura maala,

Swarna Mukuta Shira Nayana Vishaalaa

Pustak Paani Kuthaar Trishuulam,

Modaka Bhoga Sugandhit Phuulam,

Sundara Piitaambar Tana Saajit,

Charana Paadukaa Muni Man Raajit

Dhani Shiva Suvan Shadaanana Bhraataa,

Gaurii Lalan Vishva-Vikhyaata,

Riddhi Siddhi Tav Chanvar Sudhaare,

Mooshaka Vaahan Sohat Dvaare

Kahaun Janma Shubh Kathaa Tumhari,

Ati Shuchi Paavan Mangalkaarii,

Ek Samay Giriraaj Kumaarii,

Putra Hetu Tapa Kiinhaa Bhaarii

Bhayo Yagya Jaba Poorana Anupaa,

Taba Pahunchyo Tuma Dhari Dvija Rupaa,

Atithi Jaani Kay Gaurii Sukhaarii,

Bahu Vidhi Sevaa Karii Tumhaarii

Ati Prasanna Hvai Tum Vara Diinhaa,

Maatu Putra Hit Jo Tap Kiinhaa,

Milhii Putra Tuhi, Buddhi Vishaala,

Binaa Garbha Dhaarana Yahi Kaalaa

Gananaayaka Guna Gyaan Nidhaanaa,

Puujita Pratham Roop Bhagavaanaa,

Asa Kehi Antardhyaana Roop Hvai,

Palanaa Par Baalak Svaroop Hvai

BaniShishuRudanJabahiTum Thaanaa,

Lakhi Mukh Sukh Nahin Gauri Samaanaa,

Sakal Magan Sukha Mangal Gaavahin,

Nabha Te Suran Suman Varshaavahin

Shambhu Umaa Bahudaan Lutaavahin,

Sura Munijana Suta Dekhan Aavahin,

Lakhi Ati Aanand Mangal Saajaa,

Dekhan Bhii Aaye Shani Raajaa

Nija Avaguna Gani Shani Man Maahiin,

Baalak Dekhan Chaahat Naahiin,

Girijaa Kachhu Man Bheda Badhaayo,

Utsava Mora Na Shani Tuhi Bhaayo

Kahana Lage Shani Man Sakuchaai,

Kaa Karihau Shishu Mohi Dikhayii,

Nahin Vishvaasa Umaa Ura Bhayauu,

Shani Son Baalak Dekhan Kahyau

Padatahin Shani Drigakona Prakaashaa,

Baalak Sira Udi Gayo Aakaashaa,

Girajaa Girii Vikala Hvai Dharanii,

So Dukha Dashaa Gayo Nahin Varanii

Haahaakaara Machyo Kailaashaa,

Shani Kiinhon Lakhi Suta Ko Naashaa,

Turat Garuda Chadhi Vishnu Sidhaaye,

Kaati Chakra So GajaShira Laaye

Baalak Ke Dhada Uupar Dhaarayo,

Praana Mantra Padhi Shankar Daarayo,

Naama' Ganesha' ShambhuTabaKiinhe,

Pratham Poojya Buddhi Nidhi Vara Diinhe

Buddhi Pariikshaa Jab Shiva Kiinhaa,

Prithvii Kar Pradakshinaa Liinhaa,

Chale Shadaanana Bharami Bhulaai,

Rache Baithii Tum Buddhi Upaai

Charana Maatu-Pitu Ke Dhara Liinhen,

Tinake Saat Pradakshina Kiinhen

Dhani Ganesha Kahi Shiva Hiye Harashyo,

Nabha Te Suran Suman Bahu Barse

Tumharii Mahima Buddhi Badaai,

Shesha Sahasa Mukha Sake Na Gaai,

Main Mati Heen Maliina Dukhaarii,

Karahun Kaun Vidhi Vinaya Tumhaarii

Bhajata 'Raamsundara' Prabhudaasaa,

Jaga Prayaaga Kakraa Durvaasaa,

Ab Prabhu Dayaa Deena Par Keejai,

Apnii Bhakti Shakti Kuchha Deeja
Read Another Blog: Top 10 Popular Bollywood Ganpati Songs that Celebrate Ganesha Festival
Aartis are songs of praise to Ganesha.
They are typically accompanied by the ringing of bells and the waving of lamps.
Mantras are sacred syllables or phrases to focus the mind and invoke the power of a deity.
There are many Ganesha mantras, including the famous "Om Gan Ganpathe Namah."
Slokas are verses of praise as part of Ganesha Puja.
They are typically in Sanskrit, but there are also many slokas in other languages.
Vandanas are prayers or invocations that to Ganesha.
They are typically recited before Ganesha Puja or other religious ceremonies.
Chalisas are longer poems of praise or recited during Ganesha Puja.
They are typically in Sanskrit, but there are also many chalisas in other languages.
Bhajans are devotional songs to Ganesha.
They are typically accompanied by musical instruments, such as the tabla and the harmonium.