We all know that MODAK and LADOO are Ganesha's favorite dishes and no Ganesh Chaturthi is complete without sweets and delicious food, so everyone loves this festival. One of the traditional and popular recipes associated with the Ganesh Festival is "Modak." Modak is a sweet dumpling made from rice flour and filled with a mixture of jaggery, coconut, and nuts. It is considered Lord Ganesha's favorite dish and offer him during the festival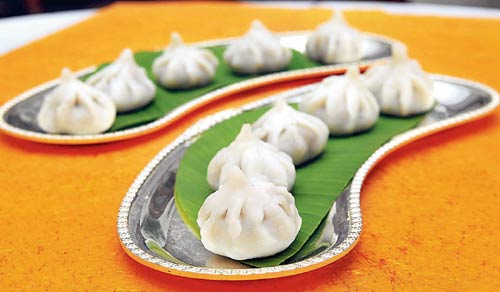 GANESH FESTIVAL RAVA MODAK or SEMOLINA MODAK
Ganesh Festival Special Recipe: Easy Modak Recipe
1 Mix the powdered jaggery with the coconut in a pan or kadai. keep the pan or kadai on a low flame. stir the mixture.
2 The jaggery would start melting at first, later it will continue to cook. Cook this filling mixture till the jaggery starts thickening and it starts to appear dry.
3 Don't overcook as then mixture will become dense and hard, Keeping aside for cooling the filling,as the filling cools it will thicken.
4 Take water in a sauce pan or any pan, sprinkle some oil and salt in it.
5 Bring the water to a rolling boll.
6 Add the semolina or rava to the water.
7 Stir with a wooden spatula or spoon till all the semolina has in the water, and mix really well.
8 Keep this pan on low fire for 5-6 minutes. continuously stir so that the rava does not stick and get burnt. after 5 minutes switch off the flame. taste a pinch of the dough, if the semolina feels undercooked, then cook for a few more minutes. Cover the pan for 5-6 minutes.
9 The dough will be still hot when the kneading has to be done, if you cannot manage the heat, then let it cool for a few more minutes. knead well and make a smooth dough. when kneading apply some oil on your palms. there should be no lumps in the dough after kneading.
10 Now take a lemon-sized ball from the dough.
11 Flatten the dough ball on the palm of your hands.
12 press the edges with your fingers and keep on moving the dough in a circle.
13 Place a few spoonfuls of the coconut-jaggery mixture filling in the center.
14 Pinch the edges and bring the fluted edges to the centre.
15 Join the centre and pinch off the top. tapper the top. make the modaks in a similar way.
16 These modaks are done now and you don't need to steam them further. serve the semolina modak to Lord Ganesha.
Here are some tips for making modak:
Use good quality rice flour and semolina for the best results.
Make sure to knead the dough until it is smooth and soft.
Do not overfill the modak with the filling.
Steam the modak for 10-15 minutes until they cook
Serve the modak hot or cold.
Your delicious Modaks are ready for Lord Ganesha and enjoyed as a festive treat. This recipe can according to personal preferences, and you can get creative with different fillings and shapes.
Read Another Blog: Ganesha Aarthis, Mantras, Slokas, Vandana, Chalisa and Bhajans