Bhai Dooj falls on the third day of the 5- days long Diwali celebrations. After the brightest festival of Diwali, brothers and sisters across the country get ready to celebrate the festival of Bhai Dooj which signifies the pious strength of their relationship. Bhai Dooj is celebrated majestically by the Hindu population in India and Nepal. The festival is also known by the names of Bhai Pota ( West Bengal), Bhai Tika (Nepal) and Bhau Beej (Maharashtra).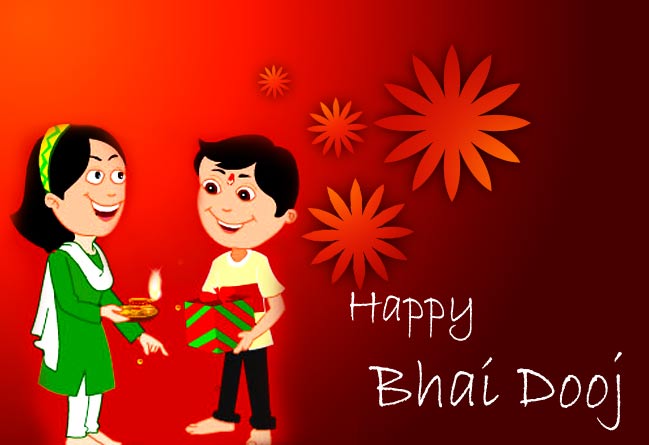 On the day of Bhai Dooj, sisters apply tilak on their brother's forehead and offer them Aarti and sweets. The brother, on the other hand presents awesome gifts to their loving sisters. There are several stories that describe the origin of the festival. According to Hindu mythology, Lord Krishna, after slaying Narkasura demon, visited his sister Subhadra on the occasion of Bhai Dooj, who applied Tilak on his forehead.
There is another story which says Lord Yama, the God of deaths visited his sister Yamuna on the occasion of Bhai Dooj and Yamuna applied Tilak on his forehead. The festival is also known as Yamdwitiya and it is said that Yamuna offered delicious food made by her to Lord Yama. And thus, there is a tradition of brothers visiting their sisters on this day and it is believed that on this day sisters should prepare meal for their brothers. The meal prepared by the sisters is for the long life of their loving brothers. And it is believed that after applying Tilak, the brothers will never go to hell after their death.
Nowadays, brothers and sisters who dwell in different cities send online gifts to their siblings and cousins. Giftease, a well- known online Gift portal has announced a unique range of online Bhai Dooj gifts at affordable rates. Their wide collection of online Diwali and Bhai Dooj gifts range from enchanting series of spiritual gifts to exotic flowers and chocolates. Delicious range of chocolates and sweets are available on their website. They have also announce mouthwatering chocolate hampers and Mithai boxes exclusively for the occasion of Diwali and Bhai Dooj.
The website is also running several discount offers exclusively for the Indian festive season. For example, you are entitled to get an instant discount of INR 200 on your first Facebook share about the website. And apart from that, they also promise standard delivery and beautiful gift wrap options. Their entire collection of personalized gifts is mesmerizing and worth buying. Personalized voice greeting card is a revolutionary gift item where you can record the wish or message in your own voice and send it across to your loved ones.
Wish you all a very Happy Festive Season!