Women's Day is celebrated all through the globe on 8th March every year. Celebrating Women's Day is an opportunity to be grateful for the remarkable contribution of women to our society. Read on to find more about Women's Day celebration and we will also provide Happy Women's Day Wishes. 'Woman'- is a word that conjures up a lot of pictures in our minds and brings out diverse emotions as self-sacrificing love, nurturing and caring approach. Who is a woman? The dictionary meaning of a woman is grown-up female human but this description cannot do integrity to the role of woman. A woman is much more than these words. Read on to find more about the significance of Women's Day celebration and share women's day wishes.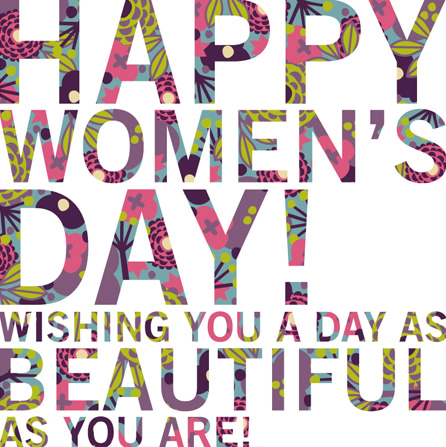 So let's understand the value of women not only on this particular day but every day. Going further we will share with you Happy Women's Day Wishes, Quotes and Sayings so that you can share with your lady as well.
Best 21 Wishes for Women's Day-
A very beautiful way to give a cute message to your lovely "woman".
Congratulations, lovely woman. Today you deserve our most beautiful flowers and poetry!

Best wishes for your special day! Live, Laugh and Love!

Wishing every WOMEN a Happy WOMEN'S DAY! Women – Such a beautiful miracle of God ♥ Mother – Wife – Sister – Daughter – Girlfriend

Some women are lost in the fire. But you are built from it! Best wishes on Women's Day.

You just smile and the world changes. Let the harmony and colors of spring shine in your life!

All best wishes on International women's day. Keep shining and smiling always!

The best medicine in the world is your Hug.

A charming woman doesn't follow the crowd. She is herself! Today is yours and so is every other day!

Be beautiful if you can, be wise if you want to, but to be respected – that is essential! Wishing you a very happy Women's day.

It's you who's making the difference in so many lives – And I am one of them.

Just wanted to thank you from bottom of my heart for all things you do! Wishing you a day filled with goodness and warmth.

All best wishes on International women's day. Keep shining and smiling always!

Behind every successful man is a woman who is getting ahead of him! Three cheers to the woman of tomorrow!

Listening carefully, understanding with patience, supporting through thick and thin, caring heart and always being there are synonymous to the word lady to me.

This day belongs to you. May you prosper and stood affirm in the course of life.

On the occasion of March 8, I wish you happiness, health, success and prosperity in the years ahead.

A woman like you is precious and hard to find. Wishing you a day as beautiful as you are!

When the world was created, you were also created to beautify it. You have done your work perfectly for all the world is smiling for you today.

Every successful man is backed up by a woman who is always a step at the forefront of him. Salute to the woman of future.

Hope your day is sunshine and flowers with happy thoughts to fill the house.

If Roses were black and violets were brown, my love for you would never be found, but roses are red and violets are blue, all I want to say is Happy women's day to you.
Understanding a Woman
"A woman is a full sphere. Within her is the power to generate, nurture and change." Understanding a woman is an ambiguity and it needs lots of perseverance and facts. A woman is the personification of love, sacrifice, care and capability to nurture life. The quality of a woman can be tacit with these thoughts "If a woman has to prefer between catching a fly ball and saving an infant's life, she will decide to save the infant's life without even allowing for there are men at the base." Such is the power of a woman. The ability to raise life beautifully makes woman the most controlling and strongest being. She can play diverse roles with simplicity be it that of an obedient wife, dutiful daughter, caring mother or adoring sister.