Are you looking for the best Happy Mother's Day 2019 messages? If yes, then you are at right place. We have collection of best collection of messages, wishes and quotes for Mothers Day. Mothers are sweetest gift bestowed to us by God. There is no way, in which we can compensate our mothers for the sacrifices she made while raising us. She is the one who makes your day brighter by catering to all your needs.
Happy Mothers Day Messages, SMS and Wishes
Hi Mom You will never know how special you are to me. You have tought me to be a mom. Over the years i watched you and today i walk in the foot steps of you to be a good example to my daughter and a leading role model mom just like you.I love you mom with all my heart.
You are the most beautiful gift from heaven for me. I thank Almighty for giving me wonderful mom as you! Happy Mothers Day Wishes!
Motherhood is tough 24 hour job,no pay,no day off, sometimes it is unappreciated, but yet resignation is impossible. A mother is a woman who created by God to bring love, joy, happiness and caring into his world. I am so glad God has created a woman to be a mother, even though motherhood is a full time job, a mother's work is never done. Happy Mother's Day.
You've seen me laughYou've seen me cryAnd always you were there with meI may not have always said itBut thanks and I love youHappy Mother's Day.
Mentor, Organizer, Taxi driver, Handyman, Educator, Referee… these don't even begin to describe all the things a mother has to be. To me, you're just the best mom ever. Happy Mother's Day.
I love my mother yes i do, for she is the one that has been there too! I love my mother yes i do. For if i had no mother like the one i do, i would be lonely, clueless, as well as you. I love my mother yes i do for she is the one that taught me too. So HAPPY MOTHERS DAY FOR ALL OF THOSE MOTHERS OUT THERE TOO!
You taught me everything and for this, I will always be grateful. Now it's time for me to tell you how much I love you! Happy Mother's Day!
Mother stands for: Magnificent, Optimistic, Trust-worthy, Heroine, Entertaining, Romantic. To me, you mean all of this and much more. I love you mom. Happy Mother's Day!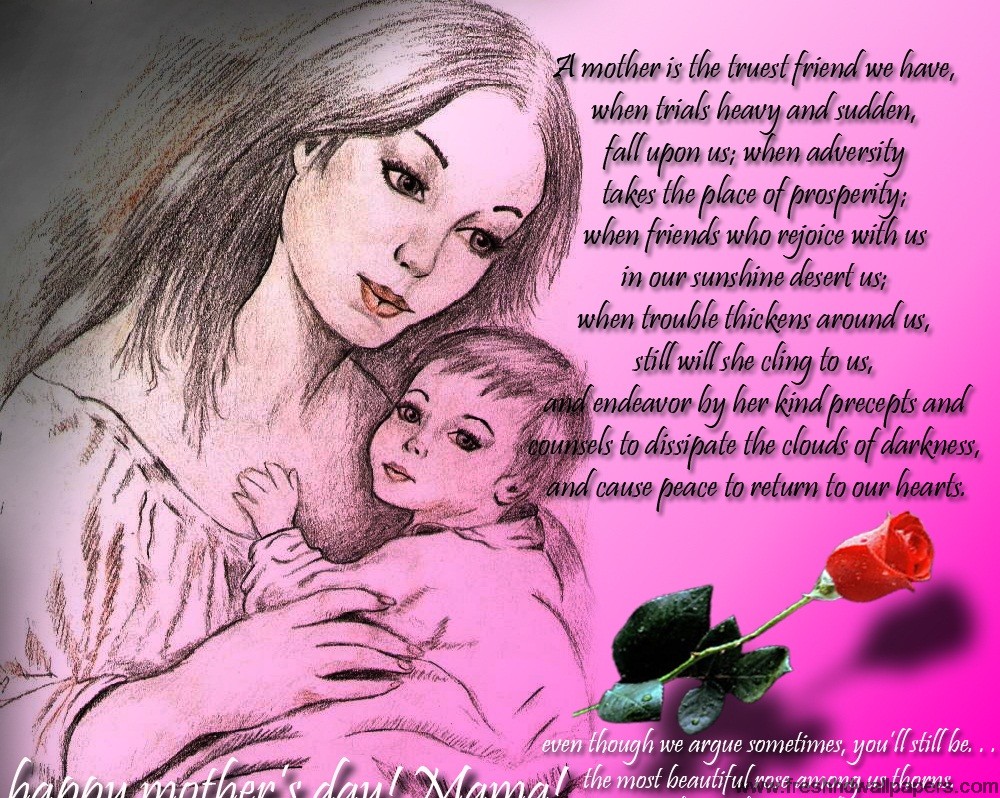 Mothers Day is the best time to show how much you love your mother. Make Mothers Day 2019 brighter by sending her warmest and heartfelt messages to her. Dont feel shy in doing so. Think about some beautiful words and thank your mother in the most beautiful way. We have collected all good messages and quotes for Mothers Day as we know it can be very hard to write something on your own.
Happy Mothers Day Quotes In English
The moment a child is born, the mother is also born. She never existed before. The woman existed, but the mother, never. A mother is something absolutely new.
I will always be there for you. You are a part of who I am in more ways than one. Regardless of what we face, we can overcome any odds because we are a family! Happy Mother's Day!
At work, you think of the children you have left at home. At home, you think of the work you've left unfinished. Such a struggle is unleashed within yourself. Your heart is rent.
I'm so fortunate to have you as my mother… I'm sure no one else would have put up with me this lengthy. Satisfied Moms Day!
The sweetest sounds to mortals givenAre heard in Mother, Home, and Heaven.~William Goldsmith Brown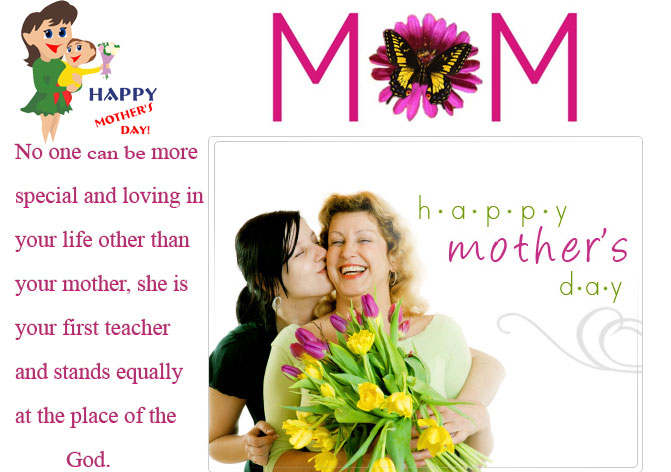 It can be very tough to write something surprising for your mother. Our short and simple mother's day sentiments can help you to express your feelings in the best possible way. We also have funny mothers day lines for ones who do not want to write something very gushy or mushy. Our quotes for mothers day is for something who wants to capture the way he or she feels about her or his mother.
Happy Mothers Day Quotes in Hindi
"माँ" तेरे दूध का हक मुझसे अदा क्या होगा lतु है नाराज तो, खुश मुझसे "खुदा" क्या होगा l l
माँ से रिश्ता कुछ ऐसा बनाया जिसको निगाहों में बिठाया जाए रहे उसका मेरा रिश्ता कुछ ऐसा की वो अगर उदास हो तो हमसे भी मुस्कुराया न जाये
माँ ने आखरी रोटी भी मेरी थाली में परोस दी,जानें क्यों फिर भी मंदिर में भगवान ढूढ़ता हूँ मैंमाँ के दिल जैसा दूनियाँ में कोई दिल नहीं…)
Main Ne Apni Maa Sy Pucha…!Jin Ki Maaen Mar Jati Hain Unke Liye Dua Kon Karta Hai….?
मेरी दुनिया में इतनी जो शौहरत है मेरी माँ की बदौलत है .. ऐ मेरे ऊपर वाले और क्या देगा तु मुझे मेरी माँ ही मेरी सबसे बड़ी दौलत है
Rab-e-Jahan ne MAA ko ye azmat kamal diIski Dua ne musibat ko taal di,Quraan main MAA k pyar ki aisi misaal di,K Khuda ne Jannat utha k MAA k qadmo main daal di.
मैं जो कुछ भी हूँ या होने की आशा रखता हूँ उसका श्रेय मेरी माँ को जाता है .मुझे एक ऐसी माँ के साथ बड़े होने का मौका मिला जिसने मुझे खुद में यकीन करना सिखाया .मुझे पूरा भरोसा है की अगर सारे देशों की माएं मिल पातीं तो और युद्ध नहीं होते .ज़िन्दगी उठने और माँ के चेहरे से प्यार करने के साथ शुरू हुई .जिस घर में माँ होती है, वहां चीजें सही रहती हैं…)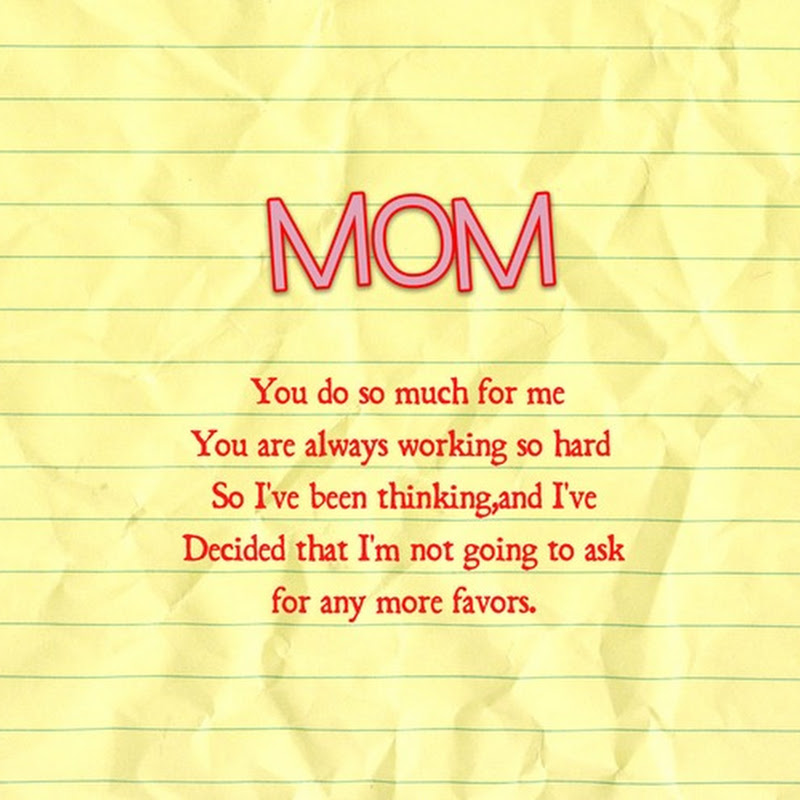 Mothers are mothers and they can deal with all sort of work you give them. She is the noblest and the most beautiful individual you can find around you. Sometimes the most effective way of expressing your feelings is quite simple. Use Mothers Day sayings to tell your mom what she means to you in life. Send her warm wishes for long and healthy life. Go through our collection now and wish you all Happy Mothers Day 2019.
Happy Mothers Day Quotes In Marathi
आई' हा शब्द पहिल्यांदा उच्चारणं असते एक आठवण…आईचं बोट धरून रांगणारा पोर चालू लागतो ती असते आठवण…भुकेलेल्या पिलाला घास भरवते आई… ती एक आठवण…आईच्या डोळ्यांदेखत मुलं आकाशात उंच झेप घेतात ती असते आठवण…सरतेशेवटी "आई तुला नाही गं कळत यातलं काही" असं म्हणण्याजोगी मोठी होतात मुलं..ती एक आठवण…
तुझ्या अपरंपार कष्टाच आज बीज होऊ दे.डोळे मिटून बसलेल्या नशिबाचे आज चीज होऊ दे.तु पार केलेस डोंगर दुखाचे,पाखरांच्या पोटात जाळ होऊ दे.किती सहन केलस आयुष्य यातनांच,आज मला तुझ आभाळ होऊ दे.माझ्या जगण्याच सार होऊ दे
दु:खात हसवी, सुखात झुलवी,गाऊनी गोड अंगाई.जगात असे काहीही नाही, जशी माझी प्रिय आई.ठेच लागता माझ्या पायी,वेदना होती तिच्या ह्रदयी.तेहतीस कोटी देवांमध्ये,श्रेष्ठ मला मझी "आई".
Aai mhanje asate ek maye cha pajhar ,aai chi maya asate ek aanandacha Saagar ,Aai mahanje asato ek gharacha aadhar,Aai vina te gajabjalele gharach asate niradhaar.
Hat tuja Mayecha,Asude Mastakavari,Zelene Avane Saari,Firuni Jeevan Vaari,Pinjun Aakash Sare,Dankat Pankhavari,Sparsh tuja Vastalyacha,Smaruni Janmatari.
Diwasbhar marmar kaam karun thaklela me jeva ghari aalo tevaWadil mhanali, kaay kamavale?Baiko mhanali, kaay wachavale?Mulani vicharle, kaay aanale?pan fakt Aai ne vicharala, divasbharat kahi khallas ka?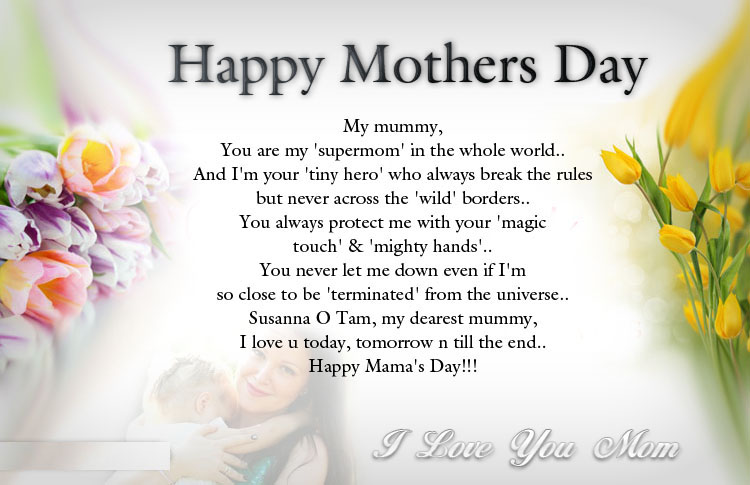 Incoming Searches for Mothers Day :-
Mothers day quotes 2023
Mothers day quotes in English,
Mothers day quotes in Hindi,
Mothers day quotes in Marathi,
Happy mothers day quotes 2023,
Special Mothers Day Messages,
Mothers Day Wishes,
Mothers Day Quotes,
Mothers Day Messages in Hindi,
Mothers Day Messages in English,
Mothers Day Messages in Marathi,
Mothers Day Status 2023,
Mothers Day SMS