Hello all you lovely people out there. Once again we are here to celebrate yet another wonderful festival with you. That's the best part about being an Indian, the Festivities in the country never ends.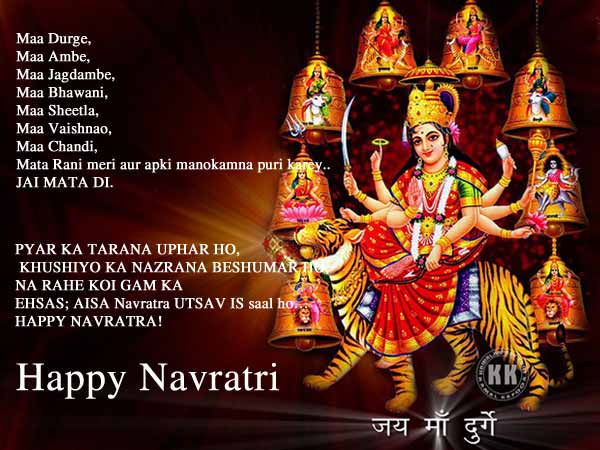 Let's begin our preparations to celebrate the most power packed festival there is, Navratri. That's right, the festival of nine nights, celebrated in its own unique way in different parts of India.
The festival of Navratri on a whole seems to symbolize the spirit of India, as the same festival is celebrated on different terms, reasons, and manners in various parts of the country but with the same amount of enthusiasm.
Here I am sharing with you Happy Navratri 2022: Navratri Messages and SMS, Navratri wishes, Navratri picture greetings for Goddess Durga festival
"May Your Life Be Filled With Happiness on This Pious Festival of Navratri. Wish you and Your Family a Happy Navratri!"
"Ramji Ki Mahima… Sita Maa Ka Dhairya… Lakshmana Ji Ka Tej Aur… Bharat Ji Ka Tyaag… Hum Sabko Jeevan Ki Seekh Deta Rahey… Aap Sab Ko Navratri Ki Hardik Shubkamnaye!"
"Maa Durga Humein Sarvshreshtha Banne Ka Saahas, Ichha, Dhairya Pradan Kare… Unki Aseem Kripa Hum Par Baniye Rahe! Apko Aur Apke Parivar Ko Navratri Ki Shubhkamnaye"
This Navratri, may you be blessed with good fortune as long as Ganeshji's trunk, wealth and prosperity as big as his stomach, happiness as sweet as his ladoos and may your trouble be as small as his mouse.
Happy Navratri.
MaaDurge,
MaaAmbe,
MaaJagdambe,
MaaBhawani,
MaaSheetla,
MaaVaishnao,
MaaChandi,
Mata Rani meriaurapkimanokamnapurikarey..
JAI MATA DI.
Bajre ki roti, aamka achar,
Suraj ki kirne, khushiyo ki bahar,
Chanda ki chandni, apano ka pyar,
Mubarakho aapko 'NAVRATRI' ka tyohar
Lakshmi ka Hath ho, Saraswati ka Sath ho,
Ganesh ka niwas ho,
Aur maa durga ke ashirwad se
Aap ke jeevan mai prakash hi prakashho….
'HAPPY NAVRATRI'
Ashirwad mile bado se.
Sahyog mile apno se.
khushiya mile jag se.
Daulat mile Rab se.
Pyar mile sab se.
Yahiduahai DIL se.
Happy Durgapuja !
I pray to maa durga to give you all
SHANTI
SHAKTI
SAMPATTI
SWARUP
SADGI
SANYAM
SAMMAN
SARASWATI
aur SNEH…
NavratrikiSubhkamnayen..
Khushianho overflow,
mastikabhinaho low,
apnokasururchayarahe,
Dilme bharimayarahe,
shohratkihobauchhar,
aisaaayeaapkeliyedandiakatyohar!
jitnebhihaijahape, unhikelalhaisare,
unke hi isaropechalte, ye chandaur tare.
palbharkeliye hi sahimaakoyaadkijiye,
hogipuritamannajarafariyadkijiye.
SubhNavratri
Pagpag me phoolkhile,
khushiapsabkoitni mile,
kabhinahodukhokasamna,
yahi he apkonavratrikisubhkamna..!!
Long live the tradition of Hindu culture and as the generations have passed by Hindu culture is getting stronger and stronger. Let's keep it up.
Best Wishes for Navratri!
N-Navchetna
A-Akhandjyoti
V-Vighnanashak
R-Ratjageshwari
A-Ananddayi
T-Trikaldarshi
R-Rakshankarti
A-AnandmoyiMaa
NavDurgablessesyou.
1. May MATA bless you on this special day of Navratri, and may on this festive season Dhan, Yash and Samriddhi comes to your home… Happy Navratri!
2. Those empty spaces were my silent prayers, asking Maa Durga to guide and protect YOU always in whatever YOU do and wherever YOU are! Happy navratri and durga puja…
3. Memories of moments celebrated together,
Moments that have been attached in my heart forever,
Make me miss you even more this Navratri.
Hope this Navratri brings in good fortune.
Happy Durga Pooja…
4. Today is first NAVRATRA. May GOD DURGA give prosperous to you and to your family. May her blessings be always with you. JAI MAATA DI. Happy Navratra!
5. May This Navratri be as bright as ever. May this Navratri bring joy, health and wealth to you. May the festival of lights brighten up you and your near and dear ones lives. Happy Navratra Durga puja…
6. Fortunate is the one who has learned to Admire, but not to envy. Good Wishes for a joyous Navratri with plenty of Peace and Prosperity…
7. Let the blessings of Maa Durga usher you! On the eve of Durga Puja I wish for you a Good Health and Happy Moments. Happy NAVRATRI!
8.
Nine NAVRATRI Prasads For You:
1)Shanti
2)Shakti
3)Saiyam
4)Sanmaan
5 )Saralta
6)Safalta
7)Samridhi
8)Sanskaar
9)Swaasthya
HAPPY SAPTAMI..
9. Happy Navaratri, I wish to Godess Durga that remove your all trobles and sorrows. Brings 9 colors hapines in your life & all your wishes come true. God bless you!
10. May Maa Durga empower you and your family with her 9 Swaroopa of Name, Fame, Health, Wealth, Happiness, Humanity, Education, Bhakti & Shakti. HAPPY NAVRATRAS!
11. What is that bright light?
From where does this fragrance coming?
This gentle breeze, cool air, hearty music…
Oh! its Navaratri Happy Navaratri…
12. May the festival of lights be the harbinger of joy and prosperity. As the holy occasion of Navratri is here and the atmosphere is filled with the spirit of mirth and love…