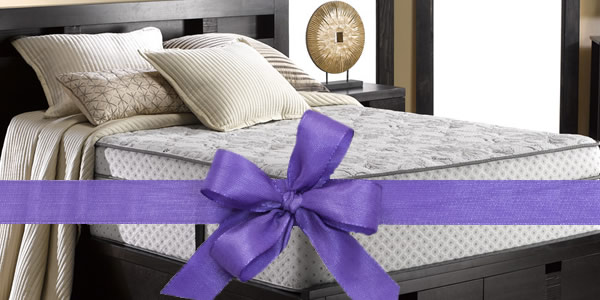 Whether for a birthday, a holiday gift or for an anniversary, it can be difficult to know what to get for your spouse, especially if you've been together for some time and have already bought each other countless gifts over the years. However, it may have occurred to you to purchase something for the home – especially if it's a present for an anniversary. When it comes to items for your house, there's few things which could be so relevant as a mattress. After all, it can often be seen as a symbol of your relationship – but is it ever really acceptable to give a mattress to your spouse as a gift?
A Personal Touch
If you think about it, your bed is a key part in your life together. You spend half of your life there after all. So it makes sense to enjoy your time there even more by making it as comfortable and inviting as possible. What better way to show your husband or wife how much you love them by giving them a gift that allows them to enjoy their time in the bedroom with you even more? A mattress is the perfect solution. It may seem, on the surface, to be a functional and rather practical gift. But in fact a mattress is a much better choice than any other household item. There's nothing romantic or sexy about being given a vacuum cleaner or dishwasher as a special gift. However, a mattress has romantic connotations that are impossible to hide.
Choosing A Mattress
Once you've decided to give a mattress as a gift to your spouse, it can be hard to decide which one to get. After all, there are so many different kinds of mattresses on the market today – how do you pick one that your spouse is going to love? Since you're choosing it as a gift, it makes sense to think about what they prefer from their bed. Do they like a soft mattress or a firm one? Do they prefer a memory foam or a traditional pocket spring mattress? However, it's also important to keep in mind your own preferences – after all, you'll be sharing the bed, right? If you both like something different from your mattress, you might want to think about choosing a latex mattress. Similar to a standard memory foam mattress, latex has more spring and is also resistant to dust mites and mold making it a great choice for any home. There are two different kinds of latex mattress and since some of them can last up to 2 decades, it could really be the gift that keeps on giving for many years to come. You can check this website for more information about how to select the right mattress to suit your own and your partner's needs.
Giving A Gift Card
If you've decided to give your spouse a mattress, it might be best to let him or her choose it. After all, there's nothing quite like testing out a mattress to know whether you like it or not. You could present your significant other with a gift card for a local store where they can go to try out a few different options before they pick the right mattress for them. Alternatively, what about trying one of those mattress brands that give you a certain number of days or weeks' free trial before deciding whether to keep the mattress or send it back? This would be another good option for anyone who isn't sure what their spouse would prefer.
A Secondary Gift
If you're worried that your spouse may not appreciate a mattress as a gift, you could always give it as part of another gift. You could present it alongside some beautiful silk or satin nightwear or even with some homemade coupons that he or she can cash in for romantic favors! You can guarantee that your other half won't be able to wait to jump into bed and try out that new mattress!
Even better, a mattress is something that both of you can really enjoy – and isn't that the best kind of gift?