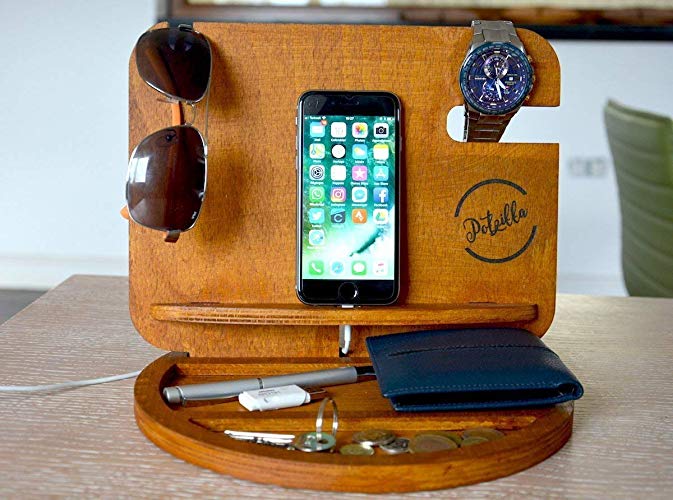 Men are easy to please, that is, until you need to buy them a gift on their anniversary or birthday. You see, most men are not sentimental, and therefore it can be a bit hard to know how to appeal to their emotions. Thus, unless you know what really tickles your man, you might never be able to impress him with gifts. You can study his style a little and invest some forethought before buying the man a gift, it is possible to get one that will leave a lasting impression on his mind.
Tip: You can always buy your man a gift that is aligned to his hobbies.
Here are five gift ideas for the man in your life:
Get him a good watch
You can never go wrong with a good, rugged watch for a man. A watch adds character and the good thing is that men love good watches. Even if your man is not into watches, you can get him to start wearing one by getting him one.
For a better impression, make the watch a combination of stainless steel casing and a leather band. Such never fail to make the right impression. Besides, there are so many varieties of watches in the market for men. You may not afford a Tag Heuer for now, but something that is bold, rugged and stylish will appeal to any man's heart.
An outdoor adventure item
Nothing can express more love than giving an outdoor enthusiast something that will help in his adventures. You could get him a pop up camping tree tent for two people – yet another way to wiggle your way into his camping escapades.
If he is into water adventures, a pair of snorkeling fins, a full face snorkel mask, a diving knife, a wetsuit or anything else that you pick will be well received. Whatever you buy him for his outdoor adventures, buy yourself one too because he will be too thrilled he will want to take you with him for the next one.
A favorite tool
Men love their toys. Now, if your man loves spending time in the garage or in the basement, it means he loves working with his tools. No matter how many tools you think he has, men who love working with their hands can never have enough of tools. Besides, in future, he might use the same tool to make you something beautiful and useful.
Some of the tools that men love include pressure washers, handheld paint sprayers, power drills, grinders and others. If he loves metalwork, do get him a welder and if you find that too costly, you can always get him a welding helmet that is convenient to use in his welding gigs. You may also listen and find out what tool he has broken and replace it for him.
A travel coffee mug
The convenience of a travel coffee mug that can keep coffee hot for hours never fails to impress. Thankfully, there are many hot coffee mugs on the online marketplaces and they come in all sizes, colors, styles and prices. They are designed to fit in the car cup holder meaning that he can take his with him even in the car when driving to work.
Every time that he is going to take a sip of piping hot coffee, he is going to remember you. That is what gifts are supposed to do, leave a lasting memory on a person's mind. Make sure the mug that you buy him does not leak, and that it can keep coffee hot for at least three hours.
A camera drone
Drones are all the rage in the market now and everyone seems to have one, except your husband. So surprise him with one and you will see just how much men love to have their toys. Besides, a good camera drone can also present you with an opportunity to shoot family photos and videos together.
Seriously, no matter how old or young your man is, get him a drone. It does not even have to cost you an arm and a leg. Mini drones cost even less than $50. However, if you want a worthwhile drone that can capture good video and photo footage, get one that is worth at least $150. That should be a good drone to have for keeps.