Everyone just eagerly waits for Lord Ganesha to arrive at their home. When Lord Ganesha arrives at our home, we feel peaceful and calm and we think about how decorative we can make the pooja room where Ganesha will be worshiped for 10 days. Here are some Eco-Friendly Ganpati Decoration ideas that you may like.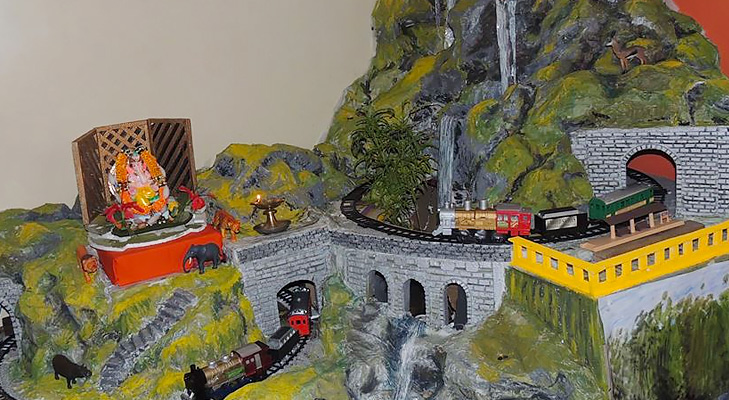 Eco-friendly Ganpati Decoration Ideas for Home
Here are some Eco-Friendly Ganpati Decoration ideas for your home:
COLOURFUL RANGOLI
Drawing rangoli for various occasions is our old tradition. Rangoli is drawn for many occasions like Diwali, weddings, different festivals, etc. There are different types of rangoli that you can use to decorate your pooja room during Ganesh Chaturthi. You can also use different colorful flowers to make rangoli decorations. Design an eco-friendly rangoli using natural materials like rice flour, turmeric, colored sand, and flower petals. These materials are biodegradable and won't harm the environment.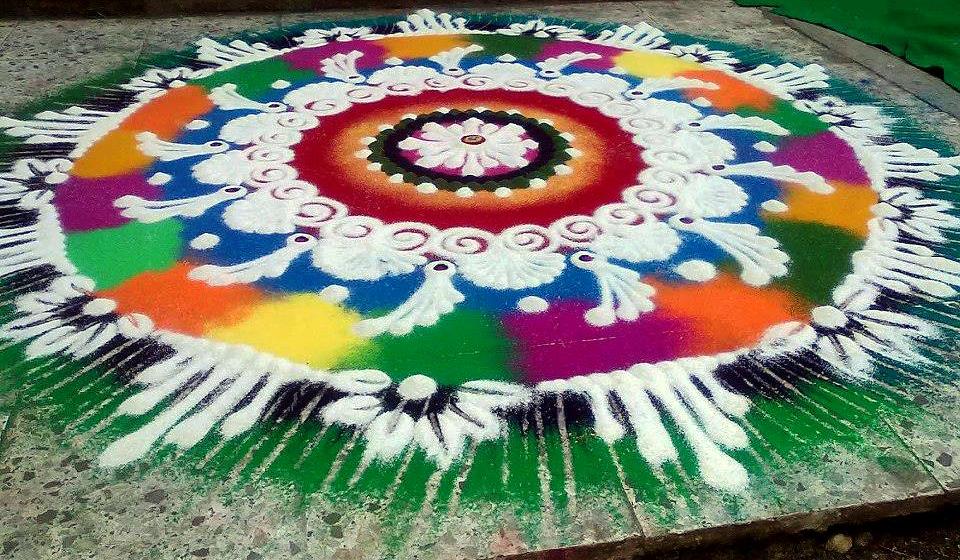 WALLPAPERS
This is one of the simple option you can use to decorate pooja room. Different types of wallpapers are available in the market now-a-days. You can use plain or printed wallpapers to make look the decoration eye catching. You can set wallpaper with green,pale white,red and yellow colored specially. Green and red are the related shade of Ganesha. So decorate the pooja ghar with wallpapers of your choice for Ganesh Chaturthi to make it look appealing and conventional. Opt for a clay or natural material Ganesha idol that can easily dissolve in water during visarjan (immersion). Avoid idols made from non-biodegradable materials like plaster of Paris.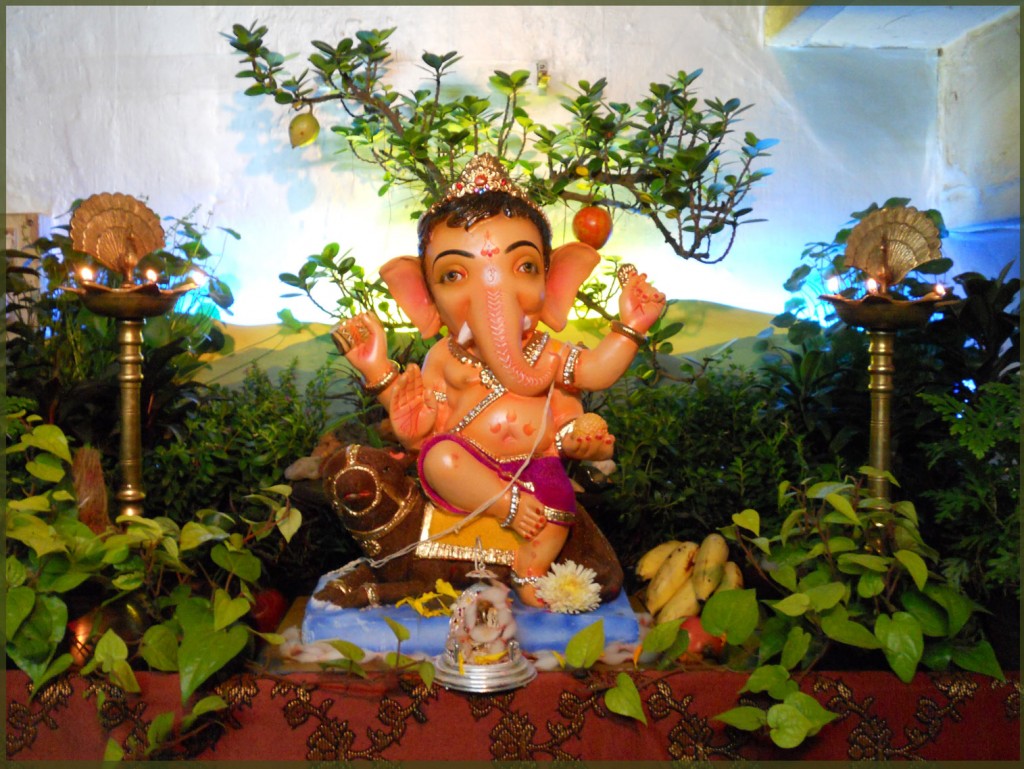 FLOWER DECORATION
Nothing will beat the beauty of flowers to decorate your pooja room for Ganesh Chaturthi. You can make garlands of flowers and you cal also decorate entrance of pooja ghar with flowers. This will help to keep the pooja room fresh and aromatic.This is one of the convenient way to decorate your pooja ghar. Decorate the altar with fresh flowers and flower garlands. Choose locally sourced and seasonal flowers to reduce the carbon footprint associated with transportation.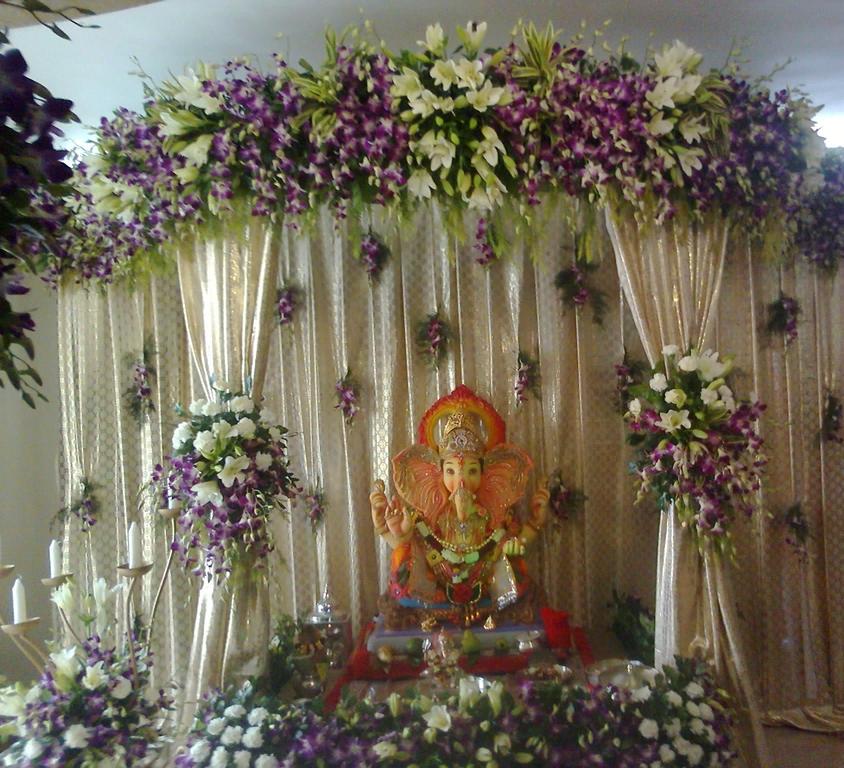 LIGHTEN UP
Lights are extremely impressive for celebrating festivals. You can use earthen lights or diyas in every corner of room particularly around the mandap to light up the spot. This is one of the idea for Ganpati decoration.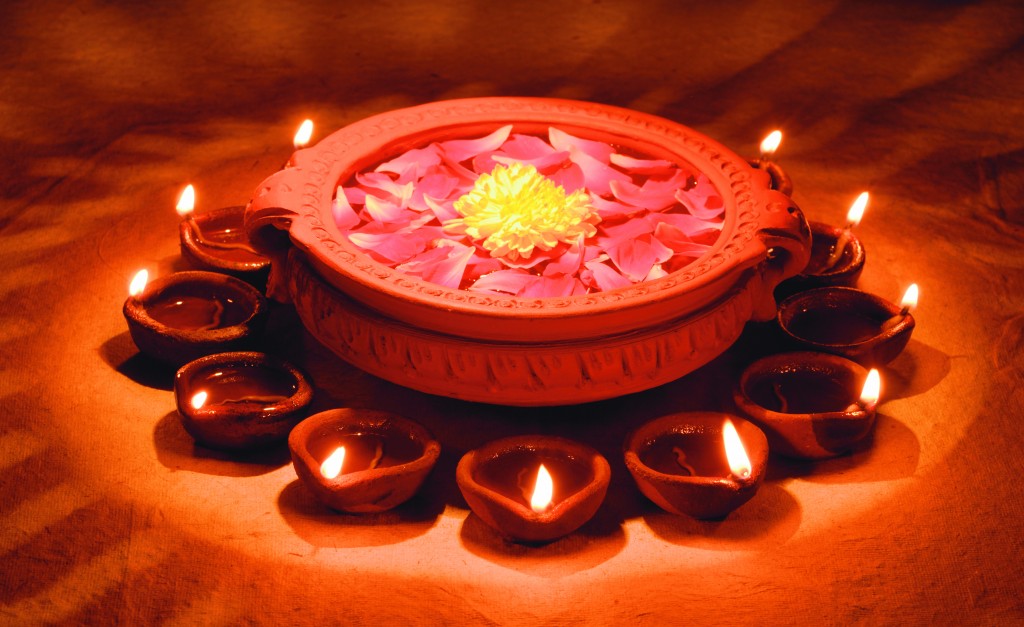 THERMOCOL DECORATION
You can make use of thermocol decorated temple like structures called maker which are readily available in market. These thermocol makars are available in hundreds of different designs and colours.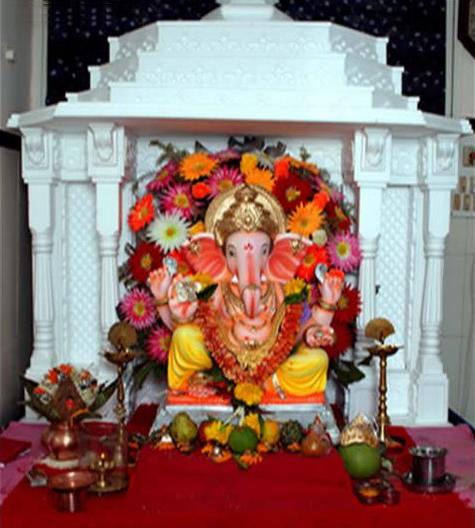 DECORATIVE RIBBONS AND LACES
These ribbons and laces are readily available in the market. They come in various colours including shiny and glittered styles. They can be tied around the pillars of the pandal. These can also be used to make a border for aarti thalis which will make it look beautiful. There are many ways to make your own eco-friendly Ganpati decorations. You can use recycled materials such as cardboard, paper, and plastic bottles to create beautiful and unique decorations. Craft your own decorations using eco-friendly materials such as jute, hemp, and cotton. Create buntings, banners, and wall hangings.
Instead of using traditional electric lights, use solar-powered lights to decorate your Ganpati puja pandal. Solar lights are a great way to reduce your carbon footprint and save energy. Instead of printing out invitations, programs, and other materials for your Ganpati puja, go paperless. You can send out electronic invitations and programs, or you can create a digital photo album of your puja.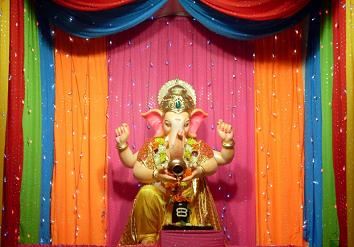 Use Natural Materials:
Instead of using artificial flowers, candles, and decorations, use natural materials such as flowers from your garden, fruits, vegetables, and leaves. These materials will add a touch of beauty to your Ganpati puja without harming the environment. However, Use potted plants and small trees as part of your decoration. These can later be planted in your garden or a suitable location. Incorporate banana leaves, palm leaves, or other natural leaves to create decorative motifs, rangoli designs, or even as backdrops.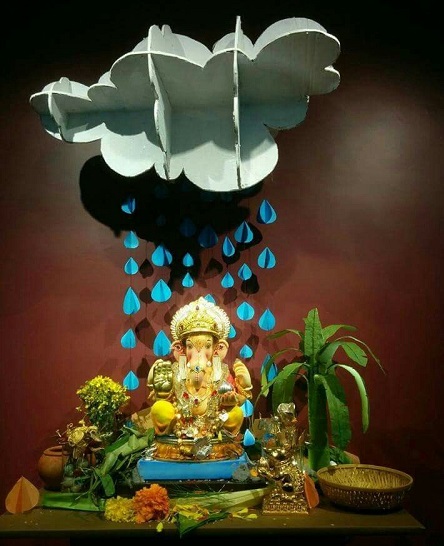 Try one of these decorative ideas and make your pooja ghar more special in this Ganesh Chaturthi. Remember, the key is to prioritize sustainability, creativity, and a deep connection with nature while celebrating Ganpati. However, Eco-friendly decorations not only reduce the impact on the environment but also create a more meaningful and mindful celebration
Read Another Blog: Best Collections of Ganpati HD Images