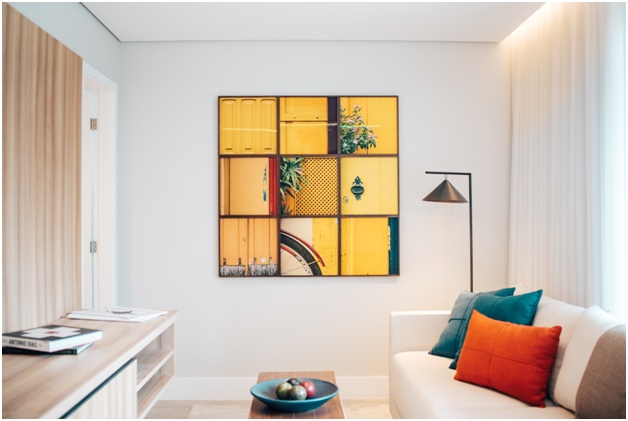 The living room is usually the first room we decorate, and the first room we show our guests. Whether you're watching movies with your family or entertaining friends, you'll be spending a lot of time here, and a beautifully decorated living room will make this time a lot more pleasant.
But if you're living room is rather compact, it can quickly get cramped and cluttered. You want to make it look nice, but the more you add, the worse it gets. What you need is a few creative décor tips to turn this limited space into a stylish oasis that both your family and friends can enjoy.
Furniture
If you've been living in this space for some years, the first thing you want to do is take stock of the furniture you already have and decide which pieces you want to keep. When it comes to small spaces, less is more, so you'll have to figure out what you really want to hold on to, but also keep in mind that it needs to work with the space. The good news is that a small living room is much easier to decorate on a budget.
The sofa can serve as a focal point, so you want one that adds style but doesn't take up too much precious space. Depending on how you plan to arrange the furniture, you can opt for a love seat or a cornet booth, or if your living room is long and narrow, then a long, armless sofa would be more suitable.
Don't overstuff the room with accent chairs and stay away from dark colours and tall backrests. This will overpower the room and make it feel claustrophobic. You want light tones and simple lines. It's even better the pieces are multifunctional and can be easily moved around to accommodate guests.
Storage
As we already mentioned, keeping your small living room free of clutter is key to making it feel more spacious. For that, you have to get creative when it comes to storage. If you fill the walls with shelves, it will make it look more like a closet than a family room. Instead, you can install storage units at the top section of your walls, close to the ceiling. Here, you can stash away linen, towels or other things you don't want lying around. Just make sure you don't exceed the maximum load for each unit.
Shelves should be used only for items you use frequently. They can double as décor so you can use them to display family photos, small plants and books. For smaller items, you'll want to use baskets. These are very inexpensive, and you can get discount ribbon in bulk to decorate them yourself and make them match the colour palette you've chosen for the room. You can also use decorative hooks to hang some baskets on the wall. They'll look great and provide storage space for quick tidy-ups.
Instead of a coffee table, you can use an elegant tray and an ottoman. The advantage is that ottomans can serve as seating and storage space as well. They're inexpensive, come in all sorts of shapes and colours so you can match them to your personal style and, at the end of the day, you have a handy footrest.
Colour Palette
Dark furniture and dark walls will make even the largest of rooms look small. You probably already know that for small rooms, you want to go for light shades and neutral tones. The palette should have a maximum of three colours, or it will become visually overwhelming, making the space feel smaller. If you really don't want to limit yourself to neutrals, you can create an accent wall in a brighter colour, but you should also match it to other accents throughout the room to tie it all together.
You can likewise use different shades of the same colour to create stripes that will make your living room look taller or wider. Darker and bolder accent colours should remain at eye level or below because this will make your ceiling appear higher. Consider blending the ceiling into the rest of the room by painting it a shade lighter than the walls.
Lighting
Lighting can be a complex aspect of any room, but it can also pull together its overall look. Small living rooms are often lacking in natural light because windows would take up too much wall space. This is a good point, but the lack of natural light can make a small room look even smaller. In this case, you need to make up for it with artificial lighting. You'll need ambient light, task light and accent lights.
This means you don't want to depend solely on overhead lighting from chandeliers. To save room on end tables, you can opt for wall-mounted or shelf-mounted lamps. You can also find floor lamps that double as end tables. Accent lights can also be installed on walls to emphasize decorative elements such as shelves or pictures. Remember that when decorating a small room that's also lacking in natural light, light shades for walls, floor and furniture can be of great help in brightening up your space.
Mirrors
It's no secret that mirrors can make a small room look and feel bigger. They're such a popular interior design element because they're so effective. The best part is that they also help brighten up a dark room. You can place a mirror directly opposite the window to reflect the light. For a more muted effect, you can place one facing the wall opposite the window.
As a rule of thumb, the smaller the room, the bigger the window but stay away from large, bulky frames. If you want to use a mirror as décor, it's better to opt for a round mirror that will draw the eye because it breaks up all the rectangular shapes around it. You can also place mirrors in such a way that they emphasize a certain area of the room or reflect decorative elements, so they create symmetry and harmony.