A new festive Animal Crossing event will be released on December 24, 2020. Unlike the ACNH toy date in previous series, this is a simpler event to take part in. Next, you are about to know everything about Toy Day details in Animal Crossing New Horizons. You might wonder how to start your Toy Day event and how to unlock all of the ACNH items, here is the best Toy Day guide for you.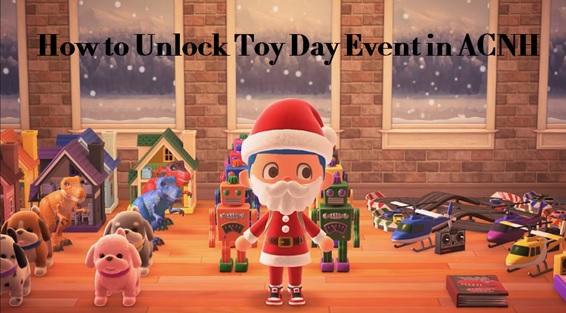 Animal Crossing New Horizons Toy Day Event
There's only a couple of days away from meeting jingle, the special reindeer character for the first time who will start the Animal Crossing brand new Toy Day Event. Jingle will stop by the plaza on the 24th of December with the toy day celebrations beginning from 5 am that morning in both hemispheres. Currently, the event is time-locked but will likely become available in the next two or three days with the version number updating to 1.6.0 c.
Noted: 
Before you start playing on December 24, make sure your game has updated the correct 1.6.0 c version, otherwise, you won't see the event.
Make sure you have a Nintendo account linked to your profile and have the clock set to the correct time on the switch.
How To Get ACNH Toy Day DIY Recipe?
To begin the event on the 24th, you simply have to speak with jingle who will hand over the DIY recipe for the brand new festive wrapping paper. Each sheet requires one red ornament, one blue ornament and one gold ornament to craft. These ACNH Jingle item DIY recipes be found by shaking the recently decorated cedar trees, you will need to craft a minimum of three and return them to jingle who will ask you to help deliver gifts for the entire island.
ACNH Magic Bag
Jingle will hand over his magic bag which contains a bunch of Christmas presents for the villagers from Santa. As well as the first holiday-themed reward called the toy day stockings, but more on those later once you have the magic bag you can equip it with any other tool. The magic bag will contain gifts for every single villager who lives on your island which can be delivered in any order, your jobs are tracking down each animal whether they're inside their houses or roaming around outside somewhere on the island. What's more, talk with them with the bag equipped to hand over their present.
How To Deliver Gifts In Animal Crossing?
The toy day event runs from 5 am December 24 that morning through to 5 am the next day. Sending gifts to villagers is automatic and you don't need any prior knowledge to do this. The only thing you really need to be careful of is catching your villager before they fall asleep at night. Most important is making sure you give them their gifts. The gifts are actually just Animal Crossing fruits so you don't need to worry about the gifts affecting the items inside their houses which is super handy. Anyway the more presents you deliver on jingle's behalf, the more toy day rewards you get. However, you don't need to buy and wear the Santa outfit to deliver presents, you are free to wear whatever you like during Animal Crossing Jingle Event.
Benefits Of Delivering Gifts In ACNH Toy Day
If you successfully deliver more than half of the items in the magic bag, jingle will reward you with the Animal Crossing DIY recipes for the gift pile item. If you deliver every single item and return the magic bag to jingle he'll also reward you with the toy day sleigh. If you ever need to check how many presents you have left during toy day, or who else you need to deliver to you can check the contents of the magic bag from your pockets.
How To Get ACNH Toy Day Items?
In order to get Toy Day Event items in Animal Crossing New Horizons, hang your recently acquired toy day stockings on the wall inside the house and ready for Santa that evening. Check the stockings the next day on the 25th of December, you will find jingle's photo inside the stockings.