Imagine someone you gifted tearing away at gift wrap with much anticipation, only to discover that you've regifted something. All your efforts and excitement will go into vain.
Stop buying products in bulk just to save some money and gifting presents to your friends that don't match their personalities. Instead, choose something from the below-mentioned 8 personalized gifts to assure your secret Santees that you're not a regifter.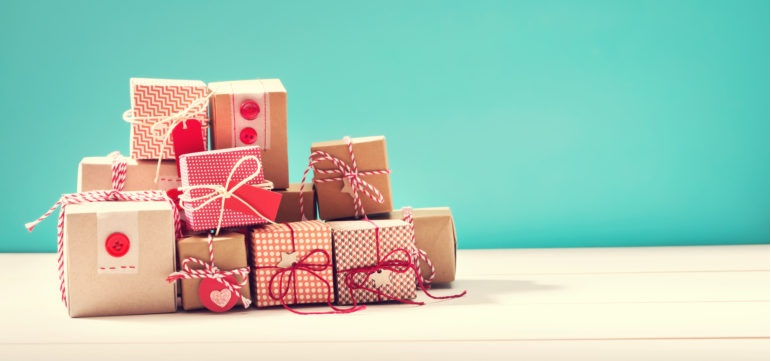 Bynd Artisan – Customized Notebooks/Leather Purses 
Bynd Artisan is the go-to brand for premium leather products and paper items. They are known for producing high-quality leather accessories, purses, and more. If you have got a friend who is always jotting down something on a paper, a customized notebook with their name on it or a special message would be the best gift for them. If you have got a lady friend who loves purses, then gifting a premium leather purse would be a delightful yet practical gift. 
Customizable Clothes and Accessories 
Customizable t-shirts are still cool. Gifting a personalized t-shirt or accessory to someone can be one of the best Christmas gifts you can give. Companies like Art Serve offer personalization services on a lot of products including apparel, accessories, bags, mugs, and more. These products will remind them of you every time they use it. And, since these products are more of a daily use product, they will remember you almost every day. 
Custom Embroidered Totes 
Custom embroidered Totes is the best way to showcase your style and personality. Companies like Muji offers a wide range of embroidery designs to choose from. All you have to do is choose a cotton-based product, pick one lettering style and up to 2 motif designs. You can also buy it from Christmas related emblems Webstore. 
Custom Denim Patchwork 
See how much I'm stressing over customized products. Custom denim patchwork is yet another gift you can give it to your loved ones. Since they're the most comfortable, people prefer wearing jeans more than anything. In addition, you can also give a customized denim jacket to elevate your loved one's look further. There are a lot of denim styles to choose from such as acid wash, sun-bleached, sand-blasted, skinny, high-waist, and more. You can buy custom denim patchwork from companies like Levi's and can tailor an iconic slogan. 
Decorating Christmas with Embroidered Patches 
If you haven't already tried, gift your loved ones highly Instagrammable decorating Christmas products with Embroidered Patches that suit any personality under the sun. You can even gift a Light Box with customizable messages and emojis that can be put on the bedside stand. For friends who love to fill their living spaces with inspirational quotes, you can gift them embroidered patches for their Christmas Tree.
Custom Fragrance Design and Mixology 
If you have a friend who is very particular about sharing the same fragrance as anyone else in the world, a 100% custom-made fragrance could be the best gift you could ever give them. Companies like Oo La Lab allows you to choose a unique combination of scent. They offer a lot of bases to choose from such as rose, musk, jasmine, woody, amber, and more. They are also available in different sizes so you don't have to adjust your budget.
Custom Crafts 
If you have a friend who loves hand-made crafts more than anything, then don't forget to gift them personalized craftwork this Christmas. No you don't need to create it on your own, you can buy it from stores like PaperMarket. They offer a wide range of crafting materials to choose from. You can even buy a vintage car plate (if available).
Customizable Travel Gear 
If you have a friend who loves traveling, then this might be the best gift for them. Companies like Naiise offer a lot of customizable travel gear that is perfect for international adventures. You can buy a DIY Stitch Luggage Tag that can help them identify their bag on crowded baggage conveyor belts or a Stitch Passport Holder and Travel Wallet.
Conclusion
Buying unique Christmas gifts needn't be tough. With our personalized Christmas gifts guide, I'm sure you'll be able to gift some amazing products to your loved ones without looking like a regifter. Just make sure that the gift you choose matches their personality.