Mangalsutra – a necklace that has culture, symbolism, sentiment, beauty, and divine significance associated with it. An item of jewellery worn round the neck – so unique to the Indian subcontinent. One that every married woman will stretch her neck out to for her husband to lovingly tie, in the presence of family, friends and well-wishers.
The choice and design of the mangalsutra may vary. You may choose from the myriad gold mangalsutra designs available in the market. Or, if you are a diamond jewellery fan, you might prefer to pick one from the many diamond mangalsutra designs available.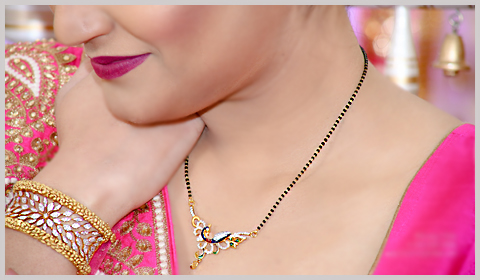 Every Indian woman whose wedding follows Indian customs and rituals will have and wear a mangalsutra on her wedding day.
But what happens later? Say, a few months down the line… Many women find it either inconvenient or unfashionable to continue wearing the mangalsutra. There are some who'll continue to wear it out of respect for tradition. Some will bring it out only on special occasions. Some will just opt for other pieces of jewellery that match their outfits, trends and occasions.
But fashion and creativity always have solutions and options. And so here are some unconventional ways of continuing to wear a mangalsutra on your person.
 1.  As a Bracelet
That's true. Wear the symbol of your marital status and declare your respect for the holy bondage of matrimony by wearing your mangalsutra on your wrist. A trend followed by Bollywood brides like Shilpa Shetty and Sonam Kapoor, the bracelet mangalsutra is fast catching up as a trendy choice among young women in India.
A typical bracelet mangalsutra consists of one or two strings of black beads strung on a gold wire, with a gold or diamond accent. You could also alternate the black beads with gold beads. Stylish, and a good accessory with Western outfits too, the bracelet mangalsutra is available in white, yellow and rose gold, with the diamond or gold accents adding elegance and beauty. You also have the option of the diamond or gold accent dangling from the mangalsutra bracelet like a charm.
2.  As a Finger Ring
Wedding bands and engagement rings are worn on the 'ring finger' in the Western world. Many Indian women are also following this trend and wearing their mangalsutra as rings.
By the way, here's an interesting theory on the ring finger… Historical Roman legend claims that there is a vital blood vessel called vena amoris – the vein of love – that runs directly from the left hand straight to the heart. This story definitely proves that no finger is better than the ring finger to wear symbols of love and togetherness like the engagement ring and the wedding band.
On a more practical note, with majority of people being right-handed, the ring finger of the left hand is more protected, and less damage is likely to occur to rings worn on this finger.
It is trendy to wear more than one ring on the ring finger. In the West, the engagement and wedding rings are worn one below the other on the ring finger. So, you can also wear the mangalsutra ring in combination with other rings of your choice – either on the same finger, or otherwise.
You can team up the mangalsutra ring in a wild combination of black beads and diamonds placed alternately against each other in two rows. This certainly would an affordable addition to your diamond Jewellery.
The ring mangalsutra is a great way of showing your commitment to the institution of marriage, and of keeping up with style. The beauty of the mangalsutra ring is that it fits in perfectly with a saree, lehenga, salwar kameez, trousers or a little black party dress!!
3.  As Earring Studs
Earrings can be another subtle and stylish way of wearing your mangalsutra. Whether as hoops or as studs, gold and black beads combined with diamonds can make for a smart set of earrings that you can wear with the aplomb and confidence of looking chic and elegant.
4.  As an Earring Chain
A glamorous and special jewellery statement is an earring chain. Either single or layered, the earring chain/s travel loosely from the ear stud to the back of the head. You could wear two symmetrical earring chains on both ears, or could do the chain as only a one-sided affair.
I'm sure you can easily visualize how a mangalsutra can be worn thus. Either regular or mangalsutra ear studs can be the starting point for a two-layer black and gold beads chain that travels in a loose scallop to the back of your head offering a graceful, stylish and a powerful fashion statement.
5.  As a Brooch
Brooches are back, and how! One of the most versatile accessories, brooches can be a lovely way of reflecting your personal style. A decorative detail that can be worn with most outfits, the brooch mangalsutra is really a fashion forward way of wearing your marriage symbol.An expression of a woman's appreciation and gratitude for a happy married life, the mangalsutra can be worn in all these ways, bringing together tradition and trend.
Vaibhav Jewellers can customize your mangalsutra for you. With their 25 years of legacy and expertise, they would be your go-to destination for gold coin or bar needs. They have 12 brick-and-mortar stores across Andhra and Telangana, and a very user-friendly website.
Their services and policies are completely customer-oriented. You'd be delighted with your buying experience. And just take a look at what else they offer:
Lifetime exchange
Free 15 day return policy
State of art Live Video Shopping
Free transit insurance on International Shipments
Free Domestic shipping
Customization services
EMI Facility
Smart Buy options